The Little Butte Project is located in northwestern Arizona and consists of 7 patented and 101 unpatented mining claims covering a total of 2,160 acres. Located within the Plomosa Mining District, the property is 30 miles east of Parker, 21 miles northeast of the Copperstone Mine, and 80 miles south of the Moss Mine. The Moss Mine was developed by the author and is now the largest gold resource in Arizona.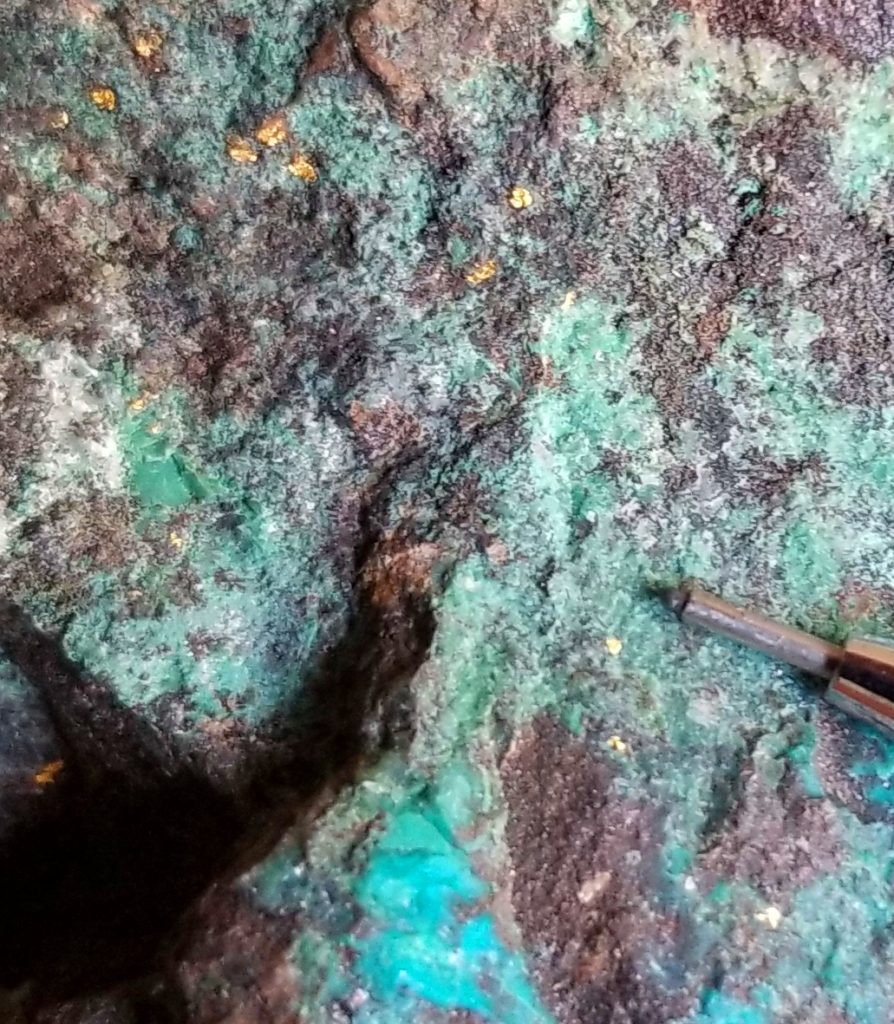 The project covers large, altered, deeply weathered, iron oxide-rich volcaniclastic rocks, limestone, and Precambrian granite. The property has characteristics of a classic copper-gold porphyry system such as Grasberg with a central, deep intrusive surrounded by sediment hosted disseminated gold and copper mineralization. Specular hematite is abundant throughout the district and is evidence of early sulfide-poor potassic alteration. The system is deeply weathered and migration of both gold and copper has occurred. Mineralization is disseminated in permeable lime bearing rocks while high-grade near vertical hematite-quartz-sulfide veins also occur over a wide area.
Historic exploration started at Little Butte with mining of visible gold using arrastras in the 1890's. In the early 1940's high-grade copper/gold ore was mined from a shaft and decline. Total recorded production from the Little Butte Mine is only 5000 ounces of gold, 7000 ounces of silver and 350,000 pounds of copper. In the early 1960's a small leach operation was set up by Loma Grande just south of Little Butte. No records of production have been found for this work. In the 1970's Kerr-McGee explored the area for porphyry copper potential. Beginning in the 1980's Fischer Watt, Tenneco, U.S. Borax and Homestake explored for gold with Homestake doing the bulk of the work (the author managed this program).
In 2010 and 2011, drilling, under the management of the owner, completed geophysics, trenching and drilling of 28 exploration holes. High grade gold/copper mineralization was discovered by hole LB1010 which contained 15 feet averaging 0.25 oz/ton gold between 20 and 35 feet (including 5 feet averaging 0.59 oz/ton) and an additional 50 feet averaging 0.10 oz/ton between 45 and 95 feet. In addition the hole contained 95 feet averaging 1.13% copper between 10 and 105 feet depth including 15 feet averaging 4.41% copper. Trenching established that the veins are near vertical and occur as multiple en echelon features. A line of drill holes 800 feet north under gravel cover showed increasing thickness of both gold and copper mineralization.
An additional 18 shallow RC holes were drilled in late 2014 and an IP survey run to look for a possible source intrusive. An IP conductivity high was found north of the area of drilling. The highest gold values intercepted were 5 foot (1.5 m) intervals of 17.25 g/t (0.50 oz/ton) and 11.25 g/t (0.33 oz/ton).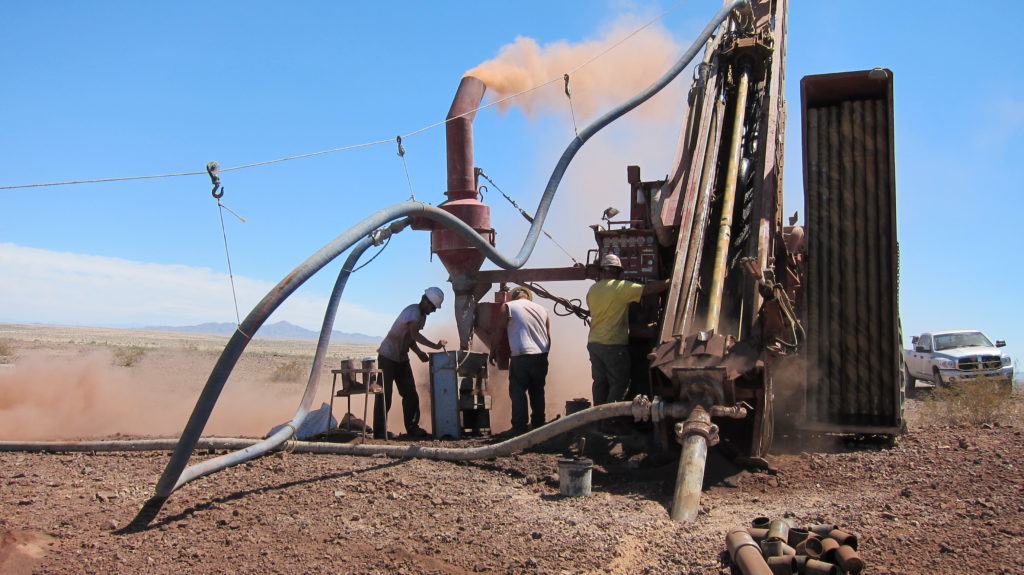 In April 2019, metallurgical testing was performed on a mineralized chip sample taken from trenching along a high grade vein. The ~15kg sample contained 25.0 g/t gold (0.73 oz/ton gold) and 2.53% copper. The sample was ground to 80%-106µm before analysis. Initial gold recovery using gravity separation yielded 89.3% recovery and formed a concentrate that assayed 2,477 g/t. Further gold extraction using cyanide yielded 99.6% total gold recovery, and copper recovery via acid leach was 70.1% with moderate acid consumption.
Great Basin Resources is seeking a partner to assist in moving the Little Butte project forward to production. The Company will consider a lease, option or JV agreement.